Delivering psychological first aid — from Ukraine to Sudan
Press Clip Source: Waging Nonviolence/Metta Center for Nonviolence
Link to Source: Here
Author: Claire Guinta
When nonviolent protectors in North Darfur needed help with stress and trauma in their community, they drew on the experience of their Ukrainian colleagues.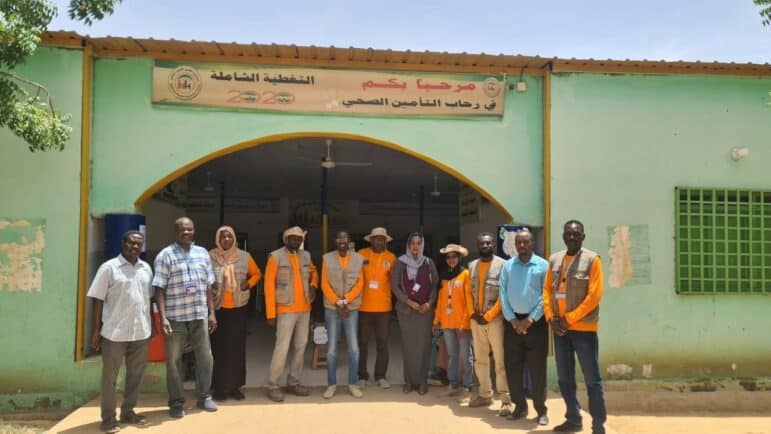 "The fighting between the Rapid Support Forces [Sudan's main paramilitary group] and the Sudanese Armed Forces started suddenly, without any signs or anticipation — but with all types of heavy weapons and bombardment," said Abualgasim Abdalla Yagoub, National Protection Officer for Nonviolent Peaceforce, or NP, in North Darfur.
When the conflict in Sudan escalated on April 15, the international diplomatic community focused on evacuating their international staff and on formal ceasefires. There was a lag before any consideration was given to Sudanese civilians — regarding either their needs or their capabilities.
As the former adviser to the U.S. special envoy for Sudan and South Sudan aptly wrote for the New York Times: "International interveners — in this case the African Union and United Nations with the support of the United States, European Union and others — legitimize these armed groups as the only valid power brokers or voices that need to be heard, while asking Sudanese citizens to quietly wait their turn. A turn that often never comes."
While many civilians have been able to leave Sudan amid ongoing fighting, the vast majority — 45 million people — remain and are facing the ongoing threat of active violence.
Identifying creative solutions
The fighting and military operations have been happening inside cities and towns, putting most of the civilians at high risk — including Abualgasim and his family, who have been caught in the crossfire.
"As a result, all of my family, including our children and my mother, have been in seriously acute stress and shock," he explained. "One of my beloved daughters was in a panic situation. At the time, all health clinics and service provider centers were closed, everyone was running to save their lives … I was trying to help and support but, unfortunately, I never received training on psychological first aid."
Although the escalation of violence has limited the space for support to civilians — whether by the international community or local civilians themselves — the ways in which unarmed civilian protection can be an effective strategy in this kind of environment are many and varied.
When the NP Darfur team identified a need for psychological first aid, we drew on the skills of another team experienced with working in intense conflict. Nataliya Verlan, NP Protection Officer in Ukraine, is a trained psychologist who has been offering psychological first aid trainings to hard-hit communities on the frontline in Southern Ukraine.
In Ukraine, Nataliya and Sara observe the familiar pattern of disparity between international support and the locally-led response. As a result, they were prepared to assist in bridging that gap in Sudan. For live interpretation between English and Arabic, Nataliya worked alongside Sarah Hamdy, originally from Egypt and now an NP Team Leader in Ukraine.
"I received a WhatsApp message from our respective team in Ukraine offering us training," Abualgasim remembered. "I was so excited and very prepared to receive the training so as to help myself, my family and my community."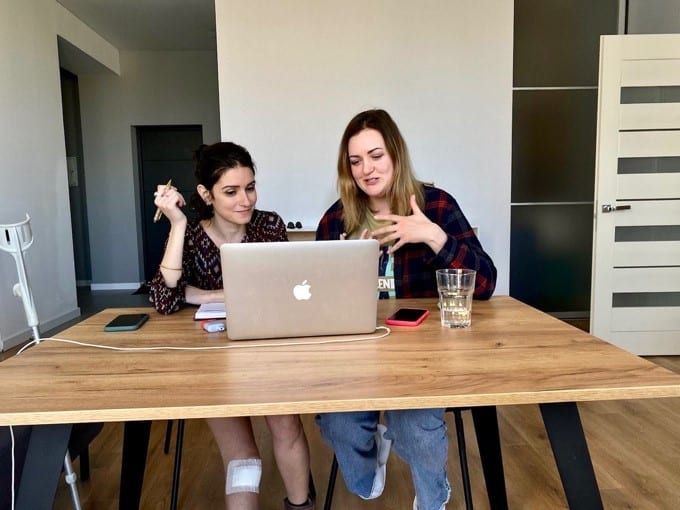 Solidarity in action
It only took a few days for Nataliya and Sarah to set up a time to connect with the Sudan team, which consisted of members both still in the country and some who were supporting remotely from South Sudan.
"Delivering a psychological first aid training session online and in English was a challenging experience for me as I have never delivered a training in English before," Nataliya said. "The responsibility of teaching others how to potentially save someone's life is a heavy one."
Nevertheless, Nataliya was happy for the opportunity to help her colleagues and offer concrete support. "My heart was pounding in my chest as I started to speak in front of my Sudanese colleagues," she said. "But my colleague Sarah was with me, so I felt that boost from her and my nerves started to fade away. I started speaking from my heart and forgot about the language barrier."
Nataliya was struck by the fact that the Sudanese colleagues were so keen to participate in the training that, when the poor internet connection made dialogue impossible, they began instead to write their questions in the chat. Following the training, all supporting documents were translated from Ukrainian to English. And even now, although the initial session has ended, the group chat is still active in case the team needs individual support or questions in an emergency.
"When you hear positive feedback from the people, it is a rewarding experience," Nataliya said. "Knowing that others feel empowered with life-saving skills from your training can fill you with a sense of purpose and accomplishment. It can also be incredibly humbling to think that you have made a difference in someone's life."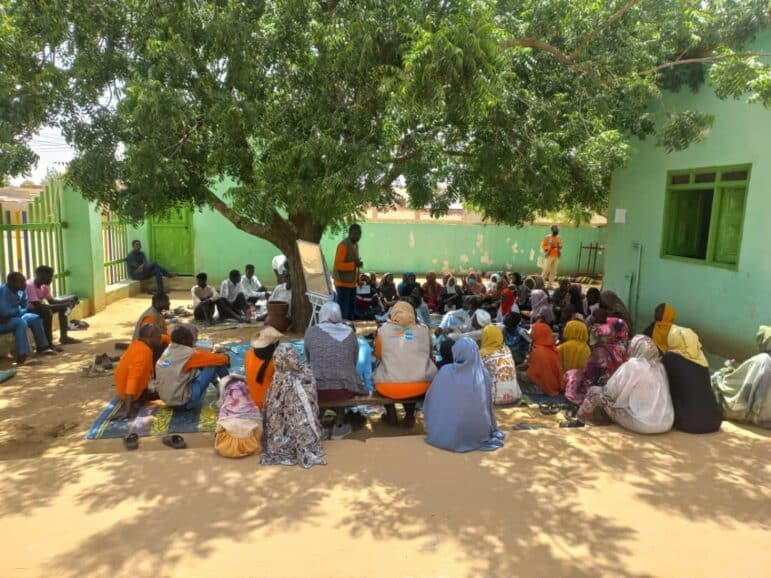 Supporting communities
Now, in addition to providing direct protection, coordination, and advocacy, the NP Darfur team has added more tools to their toolkit. They have expanded their skills to include knowledge about the physical and psychological signs of stress and trauma. The team has been trained in how to deal with shock, panic attacks, and how to support people who have undergone terrible events. They also learned about the manifestation of stress and strategies of human behavior during stress, which include the fight, flight or freeze response. Moreover, the team has been trained on the main principles of providing psychological support. These include observing — to ensure the safety and security of the person in need of support — and providing direct support with the person's consent, allowing them to decide what is best for them.
Abualgasim and the rest of the team have already put the tools into practice. "Soon after I learned," he said, "I decided to share the information with our community who are in need, in order to ensure that they shouldn't be in my situation before the training."
Along with the rest of his NP team, Abualgasim has now conducted seven sessions, with a total of 630 participants — all people from the North Darfur community, most of them internally displaced persons. "We will continue sharing the information as much as possible with more community members," he said.
"This shows how remarkable it is to see what nonviolent protection tools can achieve in such a short time frame, especially when getting creative across such huge distances and operational challenges," said Marcellina Priadi, NP Team Leader in North Darfur. "From the request for additional training to the Darfur team rolling it out to the wider community, NP worked together to respond rapidly in just 16 days. It just shows what a 'network of relations' can really do."
Amidst the ongoing frontline response, the Sudanese citizens cannot afford to quietly wait their turn. The transformative impact of psychological first aid — and the collaboration between Ukraine and Sudan — highlights the potential of increased support and coordination with local actors and civil society. Urgently, the international community must rally behind a comprehensive response that places local leadership and coordination at its core. By bolstering existing efforts through direct funding, security support and advocacy, we can support communities to overcome crises and forge a more resilient future together.
You can protect civilians who are living in or fleeing violent conflict. Your contribution will transform the world's response to conflict.